Necklace Sizes: The Ultimate Guide to Choosing the Perfect Length

With so many necklace lengths and styles, finding the perfect one can be overwhelming. But don't worry; this ultimate guide will take you through the different types of necklace lengths and provide tips on choosing the correct size. Let's dive in!
Common Necklace Lengths and Their Names
Collar
A collar or torque necklace sits tight around the neck, measuring approximately 12-14 inches in length. These necklaces are perfect for accentuating your neckline when wearing off-shoulder or strapless tops, making them an ideal choice for formal events and parties.
Choker
Choker necklaces are slightly longer than collar necklaces, ranging between 14-16 inches. They sit closely around the neck, just above the collarbone. Chokers are versatile and can be worn casually or as an elegant statement piece, depending on the design and materials used.
Princess
Princess necklaces are 18 inches long and typically rest at or below the collarbone. This length is a classic choice for women's necklaces, as it suits most necklines and body types. From simple chains to pendants, princess necklaces are versatile and can easily transition from day to night looks.
Matinee
Matinee necklaces measure 20-24 inches long and sit just above the bust. These necklaces are perfect for adding sophistication to your outfit, whether you're dressing for a business meeting or a special occasion.
Opera
Opera necklaces, at 28-34 inches long, fall at or below the bust and have a dramatic feel. These necklaces make a statement and can be worn as a single or double strand. They look great with evening wear and add a touch of glamour to your outfit.
Rope or Lariat
Rope or lariat necklaces are the longest, measuring 36 inches or more. They can be wrapped around the neck or tied in various ways. This allows you to create your unique look, making rope necklaces a versatile choice for casual and elegant outfits.
How to measure for a necklace or How to choose the right necklace length
When measuring for a necklace, wrap a flexible measuring tape around your neck where you want the necklace to sit. Add 2 inches to the measurement for a comfortable fit, remembering to consider factors like neck size, body type, and neckline when deciding on lengths. If you need more clarification, reach out to a professional jeweler for guidance or opt for an adjustable chain that offers flexibility in length.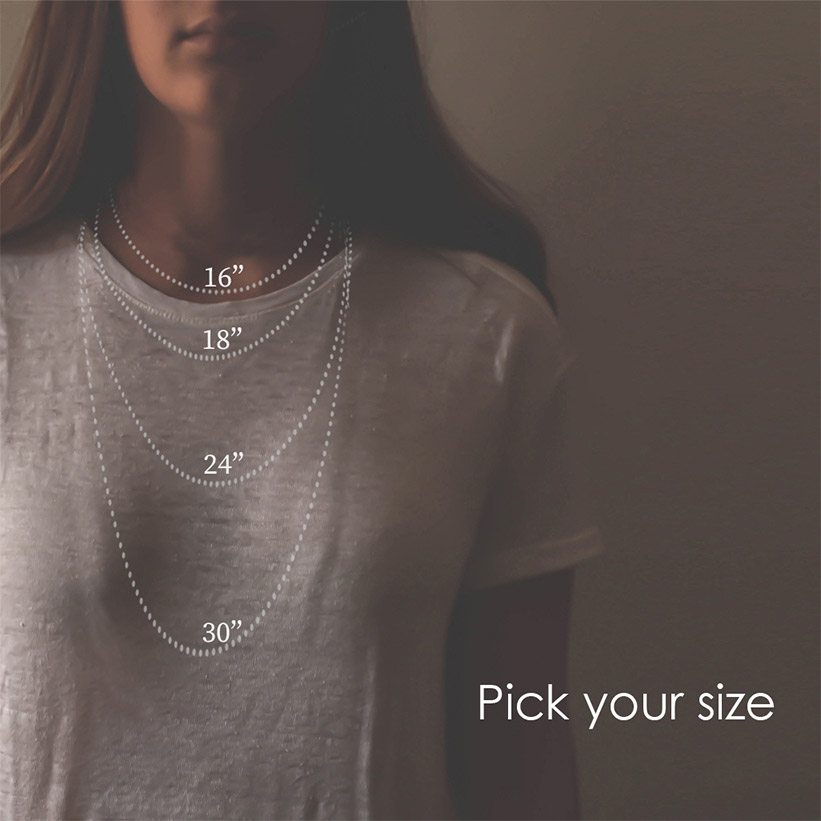 Size Charts for Necklace Lengths
A. Standard necklace size chart for women
| Necklace Length | Size (in inches) | Placement |
| --- | --- | --- |
| Collar | 12-14 | Tight around neck |
| Choker | 14-16 | Above collarbone |
| Princess | 18 | At or below collarbone |
| Matinee | 20-24 | Just above bust |
| Opera | 28-34 | At or below bust |
| Rope or Lariat | 36+ | Below bust |
B. Standard necklace size chart for men
| Necklace Length | Size (in inches) | Placement |
| --- | --- | --- |
| Choker | 16-18 | Above collarbone |
| Princess | 20-22 | At collarbone |
| Matinee | 24-26 | Mid-chest |
| Opera | 28-34 | Low chest |
C. Adjustments for special designs or customizations
When considering necklace lengths, remember that specific designs or customizations might require adjustments to the standard sizes. For instance, displaying a pendant on a chain may need a slightly longer length than usual to sit perfectly on the chest. Talk to your jeweler to discuss any necessary adjustments for your chosen piece.
Factors to Consider When Choosing a Necklace Length
Neck size
Your neck size determines the perfect necklace length. Use a measuring tape around your neck where the necklace will sit, and add 2 inches for a comfortable fit. Always consider the size when selecting collar and choker necklaces to ensure they aren't too tight.
Body type
Body type affects how necklaces might sit and appear on your frame. A longer matinee or opera length might create a slimming effect on petite frames, while shorter lengths like princess or choker styles might complement taller or more athletic figures.
Neckline and clothing styles
The neckline of your outfit should be considered when selecting a necklace length. Open necklines typically benefit from shorter styles such as collars or chokers, while crew-neck tops pair well with longer lengths like matinee or opera necklaces.
Face shape (optional)
no one-size-fits-all rule regarding face shapes and necklace lengths exists. However, longer necklaces generally can elongate your features, while shorter lengths draw attention to your jawline and neck area.
Occasion
The event or occasion you're dressing for will influence your necklace length. For casual outings, longer styles or versatile rope necklaces can create a laid-back yet stylish look. Meanwhile, more formal events might call for shorter, more elegant pieces like collars or princess necklaces embellished with pendants or precious stones.
Layering and style goals
If you love the layered look, consider a mix of different necklace lengths to create depth and interest. Combine chokers with princess or matinee necklaces, or layer opera lengths with shorter styles for a unique and fashionable appearance.